Desert of Morocco: Must Things to do in Merzouga
Top Things to do in Merzouga Morocco
With these best things to do in Merzouga desert, you will be able to live in the Sahara desert of Morocco as if you were there...etc! Every adventure is exceptional in the Sahara desert of Morocco, its landscapes, its heritage, and of course its wonderfully warm people.
All these things you can do in the desert of Merzouga would obviously not have been possible without the support of a professional team ready for anything, the warm welcome of the inhabitants who receive you, the maintained equipment, the meticulous organization, and the partners ready to rise to any challenge you might put before them. Merzouga desert will not stop calling out to you.
Merzouga is a small village located in the southeast of Morocco. Merzouga lies on the edge of Erg Chebbi, a monumental series of sand dunes that reach heights of 160 meters, It's a wonderful view, especially as the dunes change color in the setting sun from shades of gold to orange and pink. The village is the most popular desert destination in Morocco, when you come here you'll be immersing yourself in Saharan Morocco, a place unlike any other.
There are many visitor attractions such as camel trekking, quads biking & buggies, sandboarding, and in summer sand bathing, in addition to enjoying and spending a memorable overnight in Berber Camp (Bivouac).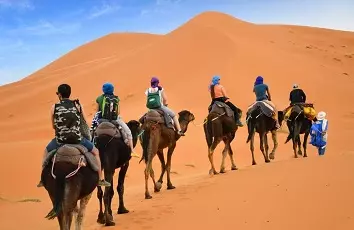 Things to do in Merzouga
One of the most popular things to do in Morocco is to discover the Sahara Desert dunes on a camel trek over Erg Chebbi dunes and spend a night in a Berber tent under the stars, and enjoy a performance of traditional Berber drum music played by local peoples.
Price p.p starts from
50
EUR
View Activity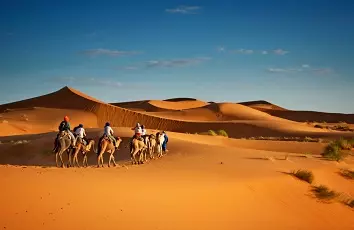 Things to do in Merzouga
This activity of the Merzouga camel trek will allow you to spend 2 night in a desert camp, before going to the camp you will enjoy camels ride in golden sand dunes and see the beautiful view of the sunset, enjoying sandboarding.
Price p.p starts from
100
EUR
View Activity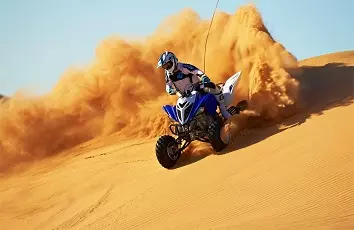 Things to do in Merzouga
ATV quad biking and buggy experience is a great choice for mechanic sport lovers. We provide an easy way to arrange your quad biking and buggy tour in Sahara desert. This adventure can be booked as a part of any Morocco desert tours.
Price p.p starts from
50
EUR
View Activity
---
Start planning your journey today
WhatsApp
Contact us on WhatsApp at +212 672 118 169 with an outline of your travel plans and your contact information.
Email Us
Email us at (contact.daysinmorocco@gmail.com) with an outline of your travel plans, your budget, and your contact information.
Complete our simple contact form to receive a no-obligation personalized vacation proposal.
---
Reviews and Testimonials
We don't like to brag about ourselves. Look at our tours reviews & testimonials and read what our clients say about DAYS IN MOROCCO and their travel experience to Morocco. Our main objective is always to satisfy the clients, to improve the quality of the service and to give a good idea about tourism domain in Morocco.
A
Alfie J
United Kingdom (UK)
One of our best holidays ever. Very well planned, sites range excellent, suggested sightseeing well selected, and over all speed of itinerary perfect-enough time to see and enjoy each sites but kept us going so we saw all the attractive destinations in Morocco. Look forward to DAYS IN MOROCCO preparing future holidays in Morocco. I will recommend several friends and family members! Thanks for the beautiful memories.
I
Isabella C
United States (US)
Very good 10 days tour in Morocco with great views of the country. I highly recommend this tour to tourists. Days in MOROCCO give you excellent services and very customized itinerary. Thanks a lot to the driver/guide too, very friendly and makes great explanations, that permits to know perfectly the story of the different highlights in Morocco. THANK YOU DAYS IN MOROCCO!
F
I just came back from the "Grand Morocco Tour in 15 days". I was very happy with the service and i got more than what i had expected from this vacation package. Everything went very smoothly and I appreciate all your help. Thank you Days in Morocco!. Our guide/driver Hassan was friendly and knowledgeable. Moreover, the places we visited are extremely beautiful. I will definitely recommend Days In Morocco to my friends and family members as a reliable Morocco tourism company.