Best Morocco Food Tour - Moroccan Culinary Tour
Food Tour - Culinary Tour
If you are a foodie, Morocco has to be on the top of your travel bucket list. Here, you can experiment with delicious traditional dishes such as couscous, tagine, pastilla, pastries, and much more. Follow the smell of food through charming markets and master recipes taught by local chefs. Join our Moroccan food tour today and let's taste the delicious Moroccan cuisine.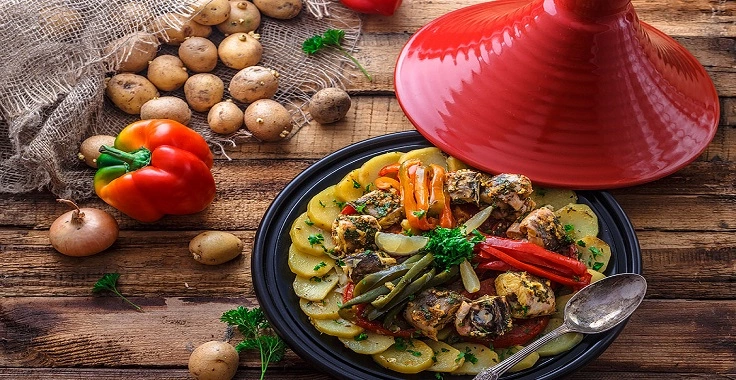 Best Moroccan Food Tour - Morocco Culinary Tour
Tour Information
Tour Name:

Morocco Food Tour

Tour Price:

Start from 70 EURO p.p

Starting time:

10:00 AM

Duration:

About 4 to 5 hours

Min.participants:

2 Participants

Max.participants:

10 Participants

Language:

French, English, Spanish...etc!

Availability:

All year long

Destinations:

Marrakech, Fes, Casablanca, Rabat, Tangier, Meknes, Essaouira and Agadir.
Overview
Morocco Food Tour: Savory Spices and Souks
Our Morocco food tour is a treat for the senses, particularly the taste buds. Arabic, Berber, French, and Italian influences merge to make Morocco one of the most fascinating and flavorful destinations in the world. From urban Casablanca to the fishing village Essaouira to Berber villages of the High Atlas Mountains to the mesmerizing Marrakech, Morocco's distinct culture is a story best told through its cuisine, an exciting mix of Berber, Arabic, Andalusian, and Mediterranean cuisines with some European and sub-Saharan influences as well.
The best way to discover the magical secrets of a certain culture would be by knowing the secrets of its own food; but when it comes to the irresistible Moroccan food, there will be millions of secrets to unravel. On Morocco food tour, you would be able to taste the most incredible Moroccan food and learn how to cook the most famous Moroccan Dishes.
We promised you an unforgettable experience with our professional chef who will teach you the most traditional recipes of Moroccan cuisine such as TAJINES, COUSCOUS, PASTILLA, TRADITIONAL OVEN BREAD and above all the traditional drink: THE MINT TEA and much more. And you will also have a visit with our guide to the market to make the necessary purchases to make your favorite dish.
With the help of a local host, discover the unique flavors of Moroccan cuisine and learn about traditional ways of life. On this private Morocco food tour, you will visit a local market, have exotic ingredients to choose from, and learn to cook 3 typical dishes.
About
The class begins at 10:00 am and lasts approximately 4hours.
10 persons at max (Please, contact us for groups.)
Gratis for kids less than 5 years.
Please, tell us about your preferences: we can cut out a class for you to offer a personalized experience.
For any traveler who wants to learn about Morocco (culture, history, cuisine, etc.!), "Days In Morocco" will customize a tour that fits your needs and requirements; the tour can include a visit to the best places to see in Morocco, such as the Sahara Desert, Volubilis, the Atlas Mountains, Chefchaouen, etc.! Then we will have a free day to enjoy Moroccan cuisine in Marrakech, Fes, Casablanca, Meknes, Tangier, or Essaouira, etc.!, depending on which city suits your needs. This activity can be included in almost any general travel itinerary as an add-on.
Schedule
10:00 am: Meeting and visiting the markets to get familiar with the ingredients.
11:30 am: The class starts, you'll start with the dessert to put it on the fridge while making the starters a sort of salad with seasonal vegetables, and after that the main course you chose. While cooking you'll enjoy a tea session in a friendly and beautiful atmosphere.
01:30 pm: You'll enjoy the dishes you've made.
Menu
The menu will consist of 3 courses; 2 starters, and 2 desserts.
Main course choices: Tagine and Couscous or Pastella.
Suggested Itinerary
Morocco Cooking Class - Moroccan Food Tour
Welcome to Moroccan cuisine.

Pick up 09.00 am from hotel/riad.
In the Morocco food tour you would be introduced to the amazing Colorful Moroccan Couscous, mesmerizing Tajines; incredible Hot soups, and wonderful Salads, only to discover and fall in love with the perfect mixture of the fragrant Moroccan spices and creative way of cooking.
Morocco food tour: starts with an unforgettable tour in the Souk (Moroccan Local Market), to carefully choose your own ingredients for a perfectly delicious meal. You will get to pick your own fresh meat, tasty vegetables and fruits, and the amazing combination of Moroccan spices.
Our team will take you on a comprehensive tour not only to have the needed ingredients but also to explore a huge part of the Moroccan culture; as the souks or the markets are the perfect chance to see the most captivating Moroccan handicrafts and charming Handmade items, beautifully made to represent the impressive history and deep traditions of authentic Morocco. The colors in the souks, the humble smiley locals, the friendly sellers, and the spectacular Moroccan touch hidden in every corner of the souk, would certainly make you fall in love with the ancient captivating country.
The Morocco food tour; starts off evolved from the local marketplace, buying the components and the spices we want, vegetables, beef, fish, culmination, bird, and the Moroccan spices along with, Ginger, black pepper, white pepper, cumin, cinnamon, candy, and hot paprika, saffron threads, turmeric, nutmeg, fenugreek, coriander, thyme, and garlic.
Afterward, we can be taking our substances to the Moroccan kitchen; where our native Master Chefs will gift to you the dishes you're going to make. The most popular Moroccan dishes are; Couscous, Tagine, Pastela, and salad (the Moroccan salad varies from others; Zaalouk, for instance, is highly spiced a touch bit however tastier). Then we are going to make you bake a few bread, the kind you devour and prefer. Finally, after a tiring morning in the kitchen, we are able to assist you to relax & enjoy the meals you made.
Cooking the Moroccan Way: Next on Morocco's food tour, a native Moroccan Chef will introduce you to the basic Moroccan ways of making the most irresistible dishes, to be able to cook your own Moroccan dish in the most creative original one.
You will get to be a professional Moroccan chef and gladly experience the smooth combination of every ingredient to finally give a perfect Moroccan plate, where you would taste the uniqueness and beauty of Moroccan cooking obviously shown in every single bite you take.
Back to your hotel/riad.
What's Included
Pick up and drop off
Professional English speaking driver
Visit local souk
Bottle of water
Choose your own menu
Moroccan tea
Market visit
Lunch
Coffee and/or Tea
Master chef
What's Not Included
Flights to/from Morocco;
Personal travel insurance;
Tips & Personal expenses;
Alcohol beverages;
Entry visas/airport departure tax;
Laundry;
Trekking permits.
Additional Info
Confirmation will be received at the time of booking;
Not wheelchair accessible;
Stroller accessible;
Infants must sit on laps;
This is a private tour/activity. Only your group will participate;
Children must be accompanied by an adult;
Infant seats available;
Face masks are required for travelers in public areas;
Face masks are required for guides in public areas;
Face masks provided for travelers;
Hand sanitizer available to travelers and staff;
Social distancing enforced throughout the experience;
Gear/equipment sanitized between uses;
Transportation vehicles are regularly sanitized;
Guides required to regularly wash hands.
Is a Morocco Culinary Tour for You?
Our Morocco culinary tours are ideal for people who are passionate about cooking and cultural travel. Please note that although this trip is not an exceptionally active trip, there is quite a bit of walking in the local souk.
Top 5 Morocco Culinary Tour Experiences
Three Moroccan cooking classes.
Eat fresh, grilled fish on Essaouira's beach.
Visit a local women's argan oil cooperative.
Lunch with Berber villagers in their High Atlas home.
Walking food tour of the colorful, labyrinthine souk of Marrakech.
What to take on your Morocco Tour?
We strongly recommend using TSA-approved luggage locks on your bags and hand carry valuables on the plane.
Many of our trips require us to move our base several times, so we recommend that you pack as lightly as possible. There will not always be someone available to help you carry your bags so you should only bring as much as you can carry on your own.
We suggest that you bring the following items:
Clothing & Equipment
Season-specific casual clothes (men and women should always dress modestly out of respect for the culture they are visiting- no tank tops, low cut tops, or short shorts. It is not necessary to wear a headscarf.)
Hiking clothes and shoes (NOTE: They can get quite dirty/dusty).
Bathing suit.
A pair of comfortable walking shoes.
A light jacket/windbreaker (NOTE: It can be very windy in Essaouira).
A warm jacket (NOTE: It can be quite cold in the High Atlas Mountains from November to March. Please pack appropriately for cold, winter evenings.).
Power adaptor for 220v, 50 Hz (outlets are two-prong rounded).
Toiletries.
Sunscreen, sunglasses, and hat.
First-aid kit with lip balm, aspirin, band-aids, cream for sore muscles (e.g. deep heat), Imodium or similar tablets for mild cases of diarrhea, any extra prescription drugs you may be taking.
Travel Documents
Passport (with photocopies).
Travel insurance (with photocopies).
Airline tickets (with photocopies).
Any entry visas or vaccination certificates required.
Credit and/or debit card and/or cash (MasterCard and Visa are the most commonly used; American Express and Maestro cards are difficult to use in Morocco.)
This document, printed.
In order to protect against any unforeseen circumstances, it is advisable to purchase adequate insurance before your date of departure. Coverage should include baggage damage or loss, flight delays or cancellations, etc. We recommend "World Nomads" for your Travel Insurance.
Why book with Days In Morocco?
Flexible & customizable tour options.
Quality & value for your money.
Specialists in Morocco holidays.
Great customer reviews.
Yours with as little as 10% deposit.
100% Satisfaction and Guarantee.
Book with confidence.
Only pay a deposit upfront and the balance of your trip will be paid to your guide.
---
Start planning your journey today
WhatsApp
Contact us on WhatsApp at +212659731554 with an outline of your travel plans and your contact information.
Email Us
Email us at (contact.daysinmorocco@gmail.com) with an outline of your travel plans, your budget, and your contact information.
Complete our simple contact form to receive a no-obligation personalized vacation proposal.