Best 4 Days Fes to Marrakech Desert Tour
Below here is the program itinerary of 4 days tour from Fes to Marrakech, and all the information, and the policies that you have to know before booking with us.
Why BOOK this 4 days Fes to Marrakech desert tour?
This is a perfect tour for travelers who want to experience the sights and sounds of Morocco in a short time. The 4 days desert tour from Fes to Marrakech takes you on a desert trip from the sensory highs of Fes to the peaceful serenity of the Sahara desert.
Daily departure is available.
Take a short time in the Cedar forest of Azrou to see the Barbarian apes, and take pictures.
Camel riding in the Merzouga desert.
Spending a night in the desert camp under the stars.
A breathtaking view of the sunset and sunrise over the dunes.
Sahara Desert - Sleep under the stars against a backdrop of towering sand dunes.
The Atlas Mountains magnificent scenery.
Visit the UNESCO World Heritage Site of Ait Benhaddou Kasbah.
Take a stroll through the breathtaking Dades gorges.
Todra Gorge - Walk in Morocco's Grand Canyon through spectacular rock formations.
Thrilling descent - Enjoy a scenic descent from the stunning High Atlas mountain pass of Tizi N'Tichka.
Local drums music around the campfire.
Drive through the palm groves of Skoura.
Drive through the palm groves of Ziz valley.
The tour is available with an English or Spanish-speaking guide.
Walk from a remote Berber community into the magnificent and inspiring High Atlas Mountains.
The Atlas Mountains - Beautiful mountain scenery in the highest mountain range in North Africa.
Ouarzazate - The Hollywood of Morocco, explore the Atlas Cinema Studio: World's largest film studio, where visitors tour the decaying sets that litter the harsh desert environment.
The tour is at an affordable price and has great quality services.
Key Features
Tour Name:
4 Days Trip from Fes to Marrakech
Duration:
4 days / 3 nights
Tour Highlights
Visiting Places:
Fes
,
Azrou
,
Ifrane
,
Midelt
,
Erfoud
,
Merzouga & Erg Chebbi
,
Tinghir
,
Boumalne Dades
,
Kalaat M'Gouna
,
Skoura
,
Ouarzazate
,
Marrakech
.
Key attractions:
Desert of Merzouga
,
Cedar Forests
,
Middle Atlas Mountains
,
Ait Benhaddou Kasbah
,
The high Atlas Mountains
,
Camel ride in the desert & the view of the sunset, sunrise
,
Spend the night in a Berber Camp
,
Todra Gorge
,
Dades Gorges
,
Berber villages
,
The panoramic view of Ziz valley
,
Nomad families
,
Erg Chebbi dunes
.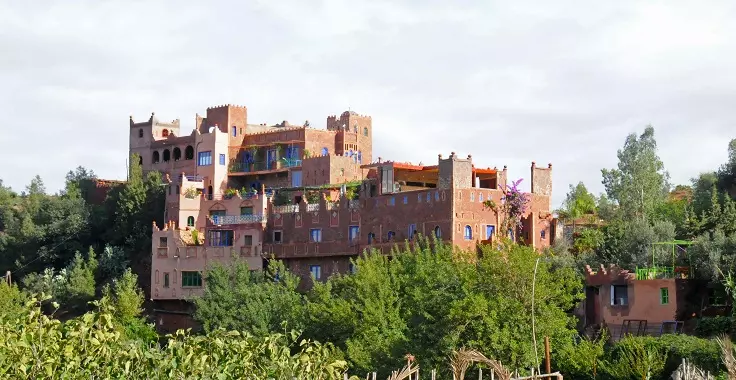 Best 4 days tour from Fes to Marrakech | Great Desert Itinerary
How you will spend these 4 days in Morocco?
Days In Morocco company placed at your disposal this simple suggestion of this tour itinerary to give you the idea about how you will spend your 4 days tour in Morocco, a day-by-day plan to guide your journey. This tour itinerary can be changed to suit your dream tour, and it will be customized to fit your needs.
Overview:

of Fes to Marrakech 4 days desert tour

The 4 days desert tour from Fes to Marrakech through Erg Chebbi dunes in Merzouga is highly recommended. This desert tour includes 2 nights in the Sahara desert, a camel trek, and short drives. Also, the tour offers you the chance to see the best places and scenery in Morocco such as the Sahara desert, the nomads living in caves, Berber villages, the panoramic view of Ziz valley, Kasbah Ait Benhaddou, and Kasbah Taourirt in Ouarzazate. Also, we will visit the donkey market in Rissani, wander with a local guide in a palmary, and hike in the Dades valley and Todra gorges. Share a cup of tea with a Berber family.
---
Tour Itinerary:
A day-by-day plan to guide your journey.
Day 1: Fes - Ifrane - Azrou - Midelt - Erfoud - Merzouga - Erg Chebbi

The driver will pick you up from your accommodation in Fes, you'll begin your tour by driving towards the middle Atlas Mountains. Most of the day will be spent touring your way via the beautiful forests of Cedar, jagged rock faces, and Berber villages as you cross the Atlas Mountains and begin to go down toward the Sahara desert. You'll have lunch in the town of Midelt, which is well known for its fossils and rocks.

We continue our Fes desert trip on mountain roads overlooking the wide flowing Oued Ziz. Crossing great Kasbahs and palm groves we will pass through the adobe colored city of Errachidia. In late afternoon, we will reach Merzouga, a city on the outskirts of the Sahara desert. Then we will overnight in the Hotel/Riad.

Driving distance

Approximately 469 kilometers

Estimated driving duration

7 hr 22 min (without stops)

Accommodation

Overnight stay in Merzouga.
Day 2: Merzouga - 4x4 Tour around Merzouga - Khamlia - Erg Chebbi Camel trek

After your breakfast, you'll discover the beautiful area of the Sahara desert. You will visit the ancient city of Rissani, best known for being a center of fossils. Rissani was once home to the Alawite Dynasty as they took power.

As well as Moulay Er-Rachid, it is also a cultural destination in Morocco boasting beautiful examples of early Moroccan architectural styles and noteworthy palaces and temples, like Ksar Oulad Abdelhalim.

We see men wearing the indigo blue robes distinctive of the Saharan people. We will also visit the village of Khamlia where you have the chance to enjoy the Gnaoua music. Then in the afternoon, you will saddle your camels for your trip across the desert during a beautiful sunset.

After the sunset, you will ride camels back to the desert camp where you will spend your second night. You will spend the night in the Berber tent (luxury or standard as your choice) enjoying the night sky and Berber music.

Driving distance

Approximately 86 kilometers

Estimated driving duration

1 hr 09 min (without stops)

Accommodation

Overnight stay in Merzouga.
Day 3: Merzouga - Erfoud - Todra Gorge - Dades Gorges

You are going to wake up early to watch the sunrise along the dunes then go back to your accommodation in Merzouga village. Afterward, we'll drive to Erfoud, and set out behind the high Atlas Mountains, crossing nomad people on our way to Marrakech, and take a walk-up in the towering Todra Gorges (600 feet high). The picturesque river valleys make a beautiful trip towards the southeast of Morocco.

We'll have a break time for lunch in "Tinejdad or Touroug". Then we continue our journey toward another impressive Dades Gorges, passing the strange rock creation of Tamnalt Hills. Your night will be in Boumalne Dades.

Driving distance

Approximately 265 kilometers

Estimated driving duration

4 hr 3 min (without stops)

Accommodation

Overnight stay in Boumalne Dades.
Day 4: Dades Gorges - Rose valley - Ouarzazate - Ait Benhaddou - Marrakech

After an early breakfast, you'll set off towards the High Atlas Mountains through Ouarzazate city. Tucked away in this region is one of the jewels of Morocco, then visit the great Kasbah of Ait Benhaddou.

In typical Moroccan fashion, the true treasures must be searched out and discovered, usually off the beaten path. Actually, this setting has been used for more films than any other location in Morocco; including "Lawrence of Arabia", "Jesus of Nazareth", and "The Gladiator"...etc!

Your lunch can be at Kasbah Ait Benhaddou. In the afternoon, you'll head along the Atlas Mountains to Marrakech city through Tizi N'Tichka (2,260 meters in altitude) it almost 4 hours of driving to pass it.

We'll arrive in Marrakech in the late evening at approximately 7 PM, where we drop you off at your accommodation (Riad/Hotel). End of our services: Fes to Marrakech 4 days desert tour.

Driving distance

Approximately 332 kilometers

Estimated driving duration

5 hr 37 min (without stops)
---
Note:
Journey times and distances are estimates and are based on the direct route between the start location and end location for each day of the itinerary, where applicable. They do not include detours or stops for sightseeing.
---
Tour Map:
Here's a map of your travel route.
---
What's Included:
Don't worry, we've got this covered.
Prices Included
Pick up and drop off (at your accommodation, airport, or any other place);
Tour Commentary;
Transport by private vehicle with A/C;
Experienced English - Spanish - French speaking guide/driver;
Car Fuel;
Camel ride in Sahara desert (Camel per person);
Overnight stay at desert camp (Luxury or Standard);
2 nights accommodation at hotel/riad;
All dinners;
Turbans for your desert experience;
Daily breakfast;
Confirmation at time of booking;
Plus many surprises stops on the way.
Prices Not Included
Flights to/from Morocco;
Meals, drinks & entrance fees;
Personal travel insurance;
Tips & Personal expenses.
Additional
Alcoholic drinks (available to purchase);
Vegetarian option is available, please advise at time of booking if required;
Children's must be accompanied by an adult.
---
What to take on your Morocco Tour?
We strongly recommend using TSA-approved luggage locks on your bags and hand carry valuables on the plane.
Many of our trips require us to move our base several times, so we recommend that you pack as lightly as possible. There will not always be someone available to help you carry your bags so you should only bring as much as you can carry on your own.
We suggest that you bring the following items:
Clothing & Equipment
Season-specific casual clothes (men and women should always dress modestly out of respect for the culture they are visiting- no tank tops, low cut tops, or short shorts. It is not necessary to wear a headscarf.)
Hiking clothes and shoes (NOTE: They can get quite dirty/dusty).
Bathing suit.
A pair of comfortable walking shoes.
A light jacket/windbreaker (NOTE: It can be very windy in Essaouira).
A warm jacket (NOTE: It can be quite cold in the High Atlas Mountains from November to March. Please pack appropriately for cold, winter evenings.).
Power adaptor for 220v, 50 Hz (outlets are two-prong rounded).
Toiletries.
Sunscreen, sunglasses, and hat.
First-aid kit with lip balm, aspirin, band-aids, cream for sore muscles (e.g. deep heat), Imodium or similar tablets for mild cases of diarrhea, any extra prescription drugs you may be taking.
Travel Documents
Passport (with photocopies).
Travel insurance (with photocopies).
Airline tickets (with photocopies).
Any entry visas or vaccination certificates required.
Credit and/or debit card and/or cash (MasterCard and Visa are the most commonly used; American Express and Maestro cards are difficult to use in Morocco.)
This document, printed.
In order to protect against any unforeseen circumstances, it is advisable to purchase adequate insurance before your date of departure. Coverage should include baggage damage or loss, flight delays or cancellations, etc. We recommend "World Nomads" for your Travel Insurance.
---
Tour Images:
These pictures maybe will give a good image of your trip.
---
Free cancellation
FREE! If you cancel at least 3 days in advance of most activities, you will receive a complete refund if you paid all the price.
---
---
Tourism Transport in Morocco - Our Cars
It's our goal to make memories that last a lifetime when you visit Morocco. That is we only offer the best at our disposal.
Our vehicles are fully-equipped for your comfort and adventure. Air conditioned and comfortable, these rugged vehicles are built for the road. Our cars have 6 seats. They're clean. The fleet includes the Toyota Prado TX, Toyota Prado VX, and Mitsubishi Pajero Sport.
Our drivers are connoisseurs of their regions. No one knows Morocco better than them. When they bring you on your journey, it will feel like travelling with a trusted friend.
For groups ranging from 7 to 17 in size, we offer minibusses and minivans such as the Hyundai H-1 Minivan, Mercedes Minibus's, and the Mercedes Vito.
Feel free to travel with our guide by your own vehicle, if you have one. Or use our 4-wheeled-drive. The choice is always yours.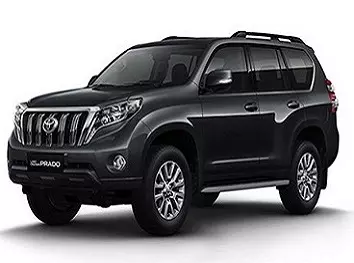 Toyota Prado TX (4x4)
Capacity: 6 Seater;
Fuel type: Diesel fuel;
Air-conditioned car;
Manual / Automatic.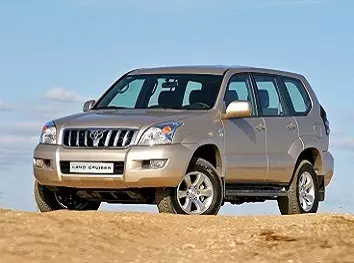 Toyota Prado VX (4x4)
Capacity: 6 Seater
Fuel type: Diesel fuel
Air-conditioned car;
Manual.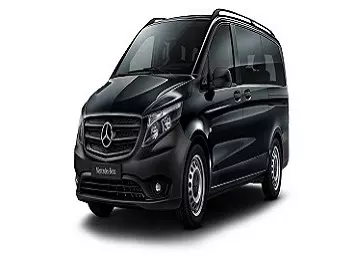 Mercedes-Benz Vito
Capacity: 7/8 Seater;
Fuel type: Diesel fuel;
Air-conditioned car;
Manual / Automatic.
---
---
Start planning your journey today
WhatsApp
Contact us on WhatsApp +212659731554 with an outline of your travel plans and your contact information.
Email Us
Email us on (contact.daysinmorocco@gmail.com) with an outline of your travel plans, your budget and your contact information.
Complete our simple contact form to receive a no-obligation personalized vacation proposal.