From Marrakech: Best Morocco Itinerary 14 Days - Two-Week
Below here is the program itinerary of the 14 Days Morocco Itinerary from Marrakech and all the information, and the policies that you have to know before booking with us.
Why BOOK this 2 Weeks in Morocco?
This 2 weeks in Morocco itinerary offers the perfect introduction for your first trip. Morocco is the gateway to Africa, and the country provides a fascinating blend of cultures and travel experiences. This Morocco 14-day tour from Marrakech enables you to see the best of the country's historical, cultural, and natural highlights.
Daily departure is available.
The Atlas Mountains magnificent scenery.
Visit the UNESCO World Heritage Site of Ait Benhaddou Kasbah.
Take a stroll through the breathtaking Dades gorges.
Camel riding in the Merzouga desert.
Spending a night in the desert camp under the stars.
A breathtaking view of the sunset and sunrise over the dunes.
Sahara Desert - Sleep under the stars against a backdrop of towering sand dunes.
Todra Gorge - Walk in Morocco's Grand Canyon through spectacular rock formations.
Drive through the palm groves of Ziz valley.
Explore Casablanca including Hassan II mosque and Quartier Habous.
Explore the gorgeous town of Chefchaouen, discover its mountainous terrain.
Thrilling descent - Enjoy a scenic descent from the stunning High Atlas mountain pass of Tizi N'Tichka.
Explore the coastal town of Essaouira, relax in the charming fishing port of Essaouira.
Local drums music around the campfire.
Drive through the palm groves of Draa valley.
The tour is available with an English or Spanish-speaking guide.
Walk from a remote Berber community into the magnificent and inspiring High Atlas Mountains.
Fes - Explore the vibrant souks and exhilarating atmosphere of this imperial city.
Fez medina guided tour including artisans' quarter and Fes tannery.
The Atlas Mountains - Beautiful mountain scenery in the highest mountain range in North Africa.
Marrakech - Discover Morocco's vibrant Red City, with its atmospheric medina and lively Djemma El-Fna Square.
Volubilis - Witness the glory of the Roman Empire and enjoy the beautiful mosaic in the ruined mansions.
Ouarzazate - The Hollywood of Morocco, explore the Atlas Cinema Studio: World's largest film studio, where visitors tour the decaying sets that litter the harsh desert environment.
The tour is at an affordable price and has great quality services.
Key Features
Tour Name:
2 Weeks in Morocco from Marrakech
Duration:
14 days / 13 nights
Starting Point:
Marrakech
Tour Highlights
Visiting Places:
Marrakech
,
Ouarzazate
,
Skoura
,
Merzouga
,
Boumalne Dades
,
Tinghir
,
Draa Valley
,
Essaouira
,
Oualidia
,
El Jadida
,
Casablanca
,
Rabat
,
Fes
,
Meknes
,
Tangier
,
Chefchaouen
.
Key attractions:
Desert of Merzouga
,
Ait Benhaddou Kasbah
,
Camel Trek & a wonderful sunset, sunrise
,
Night in the desert Camp
,
Todra Gorge
,
Dades Gorges
,
Berber Villages
,
Nomad Families
,
The blue pearl Chefchaouen
,
The beautiful beach of Essaouira
,
Volubilis
.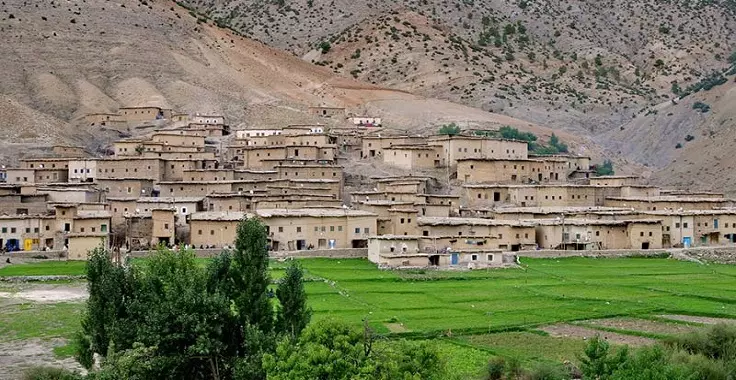 Best Itinerary of 2 Weeks in Morocco - 14 Days Tour Marrakech to Merzouga
How you will spend these 14 days in Morocco?
Days In Morocco company placed at your disposal this simple suggestion of this tour itinerary to give you the idea about how you will spend your 14 days in Morocco itinerary, a day-by-day plan to guide your journey. This tour itinerary can be changed to suit your dream tour, and it will be customized to fit your needs.
Overview:

of 2 Weeks in Morocco

Morocco is a contrasting country where Africa meets Europe and the Middle East adds its own flavor. Considered a moderate Islamic state, Morocco opens its doors to everyone regardless of ethnicity, religion, or political status.

Morocco has hosted many from old philosophers and scholars to Bob Marley and Jimmy Hendrix, so if you're looking for a colorful and diverse experience, this is the place, from Marrakech markets to the snowy peaks of the Atlas, the silence of the Sahara, and pristine beaches of the Atlantic, simply; Morocco is a wonderful place to visit.

Our great Morocco itinerary 14 days from Marrakech to Merzouga desert combines the best of everything like cities, villages, mountains, Sahara desert, music, food, shops, and the coast, plus opportunities to do community services and some fun adventure activities along the way.

Expect plenty of interaction with the friendly Berber tribes' people of North Africa, learn their unique drumming, practice the language and taste the delicious food. Your week will be filled with a lifetime of memories and educational experiences.
---
Tour Itinerary:
A day-by-day plan to guide your journey.
Day 1: Arrival to Marrakech at the airport - Transfer to your accommodation

For the first day, upon your arrival at the airport in Marrakech; our local guide will meet you and transfer you to your Hotel or Riad in Marrakech in order to settle and relax. Your night will be in Marrakech city.

Estimated driving duration

None

Accommodation

Overnight stay in Marrakech.
Day 2: Marrakech sightseeing tour

On the first morning of our trip of 2 weeks in Morocco, after breakfast; you are going to explore the famous city of Marrakech and known as the "Red City Of Morocco", which has been an important and significant stop for traders and travelers for many centuries; Marrakech city is considered as the "southern pearl" of Morocco, and the "second oldest Imperial city".

Your trip will involve the most known "Jardin Majorelle", "Bahia Palace", "the Menara Gardens", and "Saadian Tombs". You will visit the "Mosque of Koutoubia", with its 77m high minaret dominating the center of Marrakech.

Then we continue to see "Jamaa El-Fna" which is one of the center attractions of Marrakech; one of the famous and the main cultural spaces in Marrakech is the UNESCO World Heritage Site. You will stop at many cafes surrounding the square to enjoy all the views. Stick on to discover the varied and colorful souks. Overnight in Marrakech.

Estimated driving duration

None

Accommodation

Overnight stay in Marrakech.
Day 3: Marrakech - Essaouira

On the third day, we are going to leave Marrakech towards the seaside of Essaouira. With argan oil cooperatives, there is a relaxing driveline, that will take you to the UNESCO World Heritage-listed city. The windswept fishing port has long been a popular destination built into the cliffs with broad beaches and an old medina that is surrounded by a wall with ramparts.

The medina is a small and lively place with a relaxed feel, stroll along the ramparts or beach, and visit the port to see the daily catch. The Gnaouas Music Festival is held in Essaouira in June. You will spend your night in Essaouira.

Driving distance

Approximately 191 kilometers

Estimated driving duration

2 hr 47 min (without stops)

Accommodation

Overnight stay in Essaouira.
Day 4: Essaouira - Safi - Oualidia

The next morning, we leave Essaouira and head to Oualidia. We will stop to visit Safi which is a previously Portuguese-occupied town and the most known as the center of sardine exports, it is probably well known through its pottery art.

Then you will arrive at Oualidia and have a relaxing time. All right on your doorstep, you will see that Safi is a small seaside village with a protected lagoon, estuary, and the wild Atlantic Ocean.

You are going to enjoy some activities in Oualidia like walking, birdwatching (particularly in Spring and Autumn, Oualidia is at the center of the richest bird habitat of Morocco), fishing, swimming, kayaking, kite surfing, and surfing. Oualidia is where you will spend your night.

Driving distance

Approximately 192 kilometers

Estimated driving duration

2 hr 56 min (without stops)

Accommodation

Overnight stay in Oualidia.
Day 5: Oualidia - El Jadida - Casablanca - Rabat

After leaving Oualidia, the next city is Rabat, and then continue our journey toward the Atlantic Coast. Going along El Jadida, which is a small port city and controlled by the Portuguese previously, but now it is considered as a UNESCO World Heritage site; and then stop in Casablanca to visit the Hassan II Mosque and Mohammed V square.

You will explore the Imperial of Rabat city (the capital of Morocco) including the majestic Mausoleum of Mohammed V, the Hassan Tower, the Oudaya Kasbah, and the Mechouar (the Royal Palace surrounded by ramparts and walls), some wonderful sights will be offered and overlook the Atlantic Ocean, as well as being home to the galleries of Moroccan artisan. Overnight in Rabat.

Driving distance

Approximately 301 kilometers

Estimated driving duration

3 hr 37 min (without stops)

Accommodation

Overnight stay in Rabat.
Day 6: Rabat - Asilah - Tangier

After finishing breakfast, we leave Rabat behind and travel to Tangier along the amazing littoral route. You will visit Asilah, a beautiful coastal town, especially with its blue doors and walls, many murals, and whitewashed houses. Tangier has always been an international fusion pot and the portal to Africa from Europe.

Then take a tour of Tangier and explore the surrounded city and the bustling medina, you also will enjoy the view of the spectacular skyline where the Mediterranean and Atlantic oceans meet. Overnight in Tangier.

Driving distance

Approximately 258 kilometers

Estimated driving duration

2 hr 52 min (without stops)

Accommodation

Overnight stay in Tangier.
Day 7: Tangier - Chefchaouen

You will start your journey by leaving Tangier towards the fascinating mountain village of Chefchaouen, crossing the green valleys of the Rif Mountains. Chefchaouen is known throughout the world because both tourists and Moroccans like to visit this city, especially, in the hot summer months, also due to its animate blue that swilled houses that give life.

You will explore Chefchaouen by enjoying its winding and its narrow lanes and alleys which are home to numerous souks offering cuisine and artisan works, such as complex fancywork, items that are made from wool, and goat's cheese; all native to the North and not found anywhere else in Morocco.

Then have a relax in the square, go for a walk near parks or visit a local farm. Overnight in Chefchaouen the blue pearl of Morocco.

Driving distance

Approximately 112 kilometers

Estimated driving duration

2 hr 17 min (without stops)

Accommodation

Overnight stay in Chefchaouen.
Day 8: Chefchaouen - Volubilis - Meknes - Fes City

After your breakfast at the hotel/riad, our authentic trip will take us from the highest Rif Mountains over the prolific agricultural hills toward the Roman Ruins at Volubilis, which is an open-air museum. As the Roman sites on the Mediterranean rim, Volubilis is not considered as impressive but it is still a relaxed way of visualizing a significant part of Moroccan history.

We will change our way in direction to Meknes, the 17th-century heritage, and the Moroccan fourth imperial cities; our break lunch will be in Meknes where you have the chance to hang around the medina's historical huge walls.

After lunch, we take a look at Bab el Mansour and visit the shrine of Moulay Ismail. After the tour of Meknes, we drive to the next city of Fes where we will spend the night.

Driving distance

Approximately 261 kilometers

Estimated driving duration

4 hr 21 min (without stops)

Accommodation

Overnight stay in Fes.
Day 9: Fes Sightseeing Tour

The next day, you will meet our local guide and enjoy the beautiful views that Fes offer; the medina of Fes is a heady mix of flavors, sceneries, and sounds, it is the oldest and largest medieval city in the world.

Go along one of the five themed tourist circuits to navigate. You will see a lot of mosques and palaces to visit, but be aware that in Morocco only Muslims can enter the Mosques.

After you explore tanneries, restaurants, and dye-pits, we go back to our hotel to get ready for an entertainment optional night of Moroccan and enjoy the food at a restaurant in town to end up your trip of Fes.

Estimated driving duration

None

Accommodation

Overnight stay in Fes city.
Day 10: Fes - Ifrane - Azrou - Midelt - Ziz Gorges - Erfoud - Merzouga

After breakfast, we will start with a photographic journey towards Ifrane through the Moyen Atlas, over covered hills in the forests of cork oak and giant cedar, which is considered the home of some Barbary monkeys.

On the south side, we will catch a first glimpse of the unbelievable architecture, via beautiful and quiet passes crossing the Middle and High Atlas ranges.

We will have lunch in Midelt, approached through a bleak plain of scrub and desert. The dramatic peaks of the High Atlas, rising behind the town, provide an amazing background.

We will go down into a desert plain in the direction of Ziz valley across Tizi N'Talremt (Pass of the She Camel). Then we will head south to Erfoud and Rissani, a huge oasis containing over six million palm trees, edged by many Ksours (fortified villages).

We continue our tour along a striking road that marks the transmission to the desert, we travel to the stunning Kasbah hotel at the edge of the golden sand dunes, you will relax alongside the swimming pool, and enjoy an amusement night with a live show of desert blues band.

Driving distance

Approximately 469 kilometers

Estimated driving duration

7 hr 22 min (without stops)

Accommodation

Overnight stay in Merzouga.
Day 11: Merzouga - Nomads Families - Tissardmine - Black Desert Khamlia - Merzouga

Waking up earlier to see the desert sunrise and then return to the Hotel by camel. You have the chance to take a shower and to enjoy your breakfast. After breakfast, you will relax for an hour or two, then go on 4 WD off-route tour around the dunes through Merzouga oasis, the nomadic repository, and Khamlia village in order to visit the village of Gnawa Black people, slaves are brought originally from black Africa, to listen to their spiritual music, then continue to meet desert nomads in their tents, and discover a new sense of life.

There is the lake of Merzouga with its bird populations, but it's not far away, then you'll leave toward Rissani. The meeting place for the salt caravans who are coming from Timbuktu in Mali was called Sijilmassa, we will go for a walk via the souk, where they sell spices, vegetables, and cloths.

After a lunch pizza in Rissani, we drive back to our Kasbah, we will be welcomed with a cup of tea, having time to relax, and then get ready to ride camels into the pink sands of Morocco's highest dunes. Before the sunset view, we will have time to wander the dunes. Your night will be in a desert camp with served dinner, followed by traditional music.

Driving distance

Approximately 86 kilometers

Estimated driving duration

1 hr 09 min (without stops)

Accommodation

Overnight stay in Merzouga.
Day 12: Merzouga - Erfoud - Todra Gorges - Dades Gorges

We are going to leave the desert and move on towards Todra Gorge. On all sides, this 1000ft gorge is called the Grand Canyon of Morocco and hemmed in by columnar limestone cliffs. Today you will have time to explore the gorge, from its plunging depths to the dizzying heights.

The attraction of Todra lines is in the change of colors as the sun slowly moves from east to west. For the night, we continue on to the stunning Boumalne Dades.

Driving distance

Approximately 264 kilometers

Estimated driving duration

4 hr 7 min (without stops)

Accommodation

Overnight stay in Boumalne Dades.
Day 13: Dades Gorges - Roses Valley - Ouarzazate - Ait Benhaddou - Marrakech

After breakfast we will drive via the villages of this charming area, crossing fields cultivated by the Berber women, with the peaks of the High Atlas as a fitting backdrop. Then our trip continues to Ouarzazate, going off-route along the piste to visit Berber nomads in their caves and share with them a glass of tea.

We keep going on over the Valley of the Roses, which is known throughout the world because of its Festival Rose in May, and past the great kasbahs of Skoura. After visiting the cinematographic museum of Ouarzazate, "Hollywood of Morocco", we will pass the bottom of a river to visit Ait Benhaddou.

You are going to explore some of the ruined buildings and climb to the top of the hill where the Agadir (grain store) provides stunning views over the surrounding countryside and the village. Also, you can get in one of the houses and share a cup of mint tea with some of the residents to obtain a better understanding of how they are living.

In the afternoon you'll drive to the north across the High Atlas mountains. The road, completed by the Foreign Legion in 1936, winds up through the Tizi N'Tichka pass (2260m) and offers spectacular views of the mountains before descending past Berber villages to the plain surrounding Marrakech.

The name Marrakech conjures up images of sceneries from the Arabian Nights: alleyways, souks, stalls, and markets. This remarkable city never fails to satisfy the curiosity of adventurous travelers, dating from the 11th century. The beautiful architecture of the famous Koutoubia Minaret, and dominates the vista. Overnight in Marrakesh.

Driving distance

Approximately 332 kilometers

Estimated driving duration

5 hr 42 min (without stops)

Accommodation

Overnight stay in Marrakech.
Day 14: Marrakech - Transfer to the airport

On the last day of our 14 days Morocco tour from Marrakech, we will try to benefit our time as much as we can, stroll around the great souks of Marrakech to have some memorable moments with friends, then move out to the airport of Marrakech Menara for your departure flight. End of our services: 2 week Morocco tour itinerary.

Estimated driving duration

None
---
Note:
Journey times and distances are estimates and are based on the direct route between the start location and end location for each day of the itinerary, where applicable. They do not include detours or stops for sightseeing.
---
Tour Map:
Here's a map of your travel route.
---
What's Included:
Don't worry, we've got this covered.
Prices Included
Pick up and drop off (at your accommodation, airport, or any other place);
Tour Commentary;
Transport by private vehicle with A/C;
Experienced English - Spanish - French speaking guide/driver;
Car Fuel;
Camel ride in Sahara desert (Camel per person);
Overnight stay at desert camp (Luxury or Standard);
12 nights accommodation at hotel/riad;
All dinners;
Turbans for your desert experience;
Daily breakfast;
Confirmation at time of booking;
Plus many surprises stops on the way.
Prices Not Included
Flights to/from Morocco;
Meals, drinks & entrance fees;
Personal travel insurance;
Tips & Personal expenses.
Additional
Alcoholic drinks (available to purchase);
Vegetarian option is available, please advise at time of booking if required;
Children's must be accompanied by an adult.
---
What to take on your Morocco Tour?
We strongly recommend using TSA-approved luggage locks on your bags and hand carry valuables on the plane.
Many of our trips require us to move our base several times, so we recommend that you pack as lightly as possible. There will not always be someone available to help you carry your bags so you should only bring as much as you can carry on your own.
We suggest that you bring the following items:
Clothing & Equipment
Season-specific casual clothes (men and women should always dress modestly out of respect for the culture they are visiting- no tank tops, low cut tops, or short shorts. It is not necessary to wear a headscarf.)
Hiking clothes and shoes (NOTE: They can get quite dirty/dusty).
Bathing suit.
A pair of comfortable walking shoes.
A light jacket/windbreaker (NOTE: It can be very windy in Essaouira).
A warm jacket (NOTE: It can be quite cold in the High Atlas Mountains from November to March. Please pack appropriately for cold, winter evenings.).
Power adaptor for 220v, 50 Hz (outlets are two-prong rounded).
Toiletries.
Sunscreen, sunglasses, and hat.
First-aid kit with lip balm, aspirin, band-aids, cream for sore muscles (e.g. deep heat), Imodium or similar tablets for mild cases of diarrhea, any extra prescription drugs you may be taking.
Travel Documents
Passport (with photocopies).
Travel insurance (with photocopies).
Airline tickets (with photocopies).
Any entry visas or vaccination certificates required.
Credit and/or debit card and/or cash (MasterCard and Visa are the most commonly used; American Express and Maestro cards are difficult to use in Morocco.)
This document, printed.
In order to protect against any unforeseen circumstances, it is advisable to purchase adequate insurance before your date of departure. Coverage should include baggage damage or loss, flight delays or cancellations, etc. We recommend "World Nomads" for your Travel Insurance.
---
Tour Images:
These pictures maybe will give a good image of your trip.
---
Free cancellation
FREE! If you cancel at least 3 days in advance of most activities, you will receive a complete refund if you paid all the price.
---
---
Tourism Transport in Morocco - Our Cars
It's our goal to make memories that last a lifetime when you visit Morocco. That is we only offer the best at our disposal.
Our vehicles are fully-equipped for your comfort and adventure. Air conditioned and comfortable, these rugged vehicles are built for the road. Our cars have 6 seats. They're clean. The fleet includes the Toyota Prado TX, Toyota Prado VX, and Mitsubishi Pajero Sport.
Our drivers are connoisseurs of their regions. No one knows Morocco better than them. When they bring you on your journey, it will feel like travelling with a trusted friend.
For groups ranging from 7 to 17 in size, we offer minibusses and minivans such as the Hyundai H-1 Minivan, Mercedes Minibus's, and the Mercedes Vito.
Feel free to travel with our guide by your own vehicle, if you have one. Or use our 4-wheeled-drive. The choice is always yours.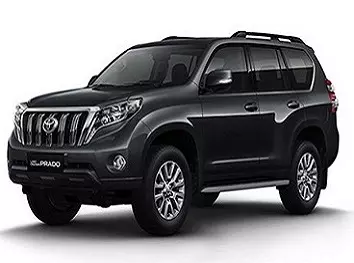 Toyota Prado TX (4x4)
Capacity: 6 Seater;
Fuel type: Diesel fuel;
Air-conditioned car;
Manual / Automatic.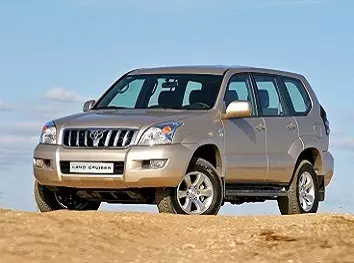 Toyota Prado VX (4x4)
Capacity: 6 Seater
Fuel type: Diesel fuel
Air-conditioned car;
Manual.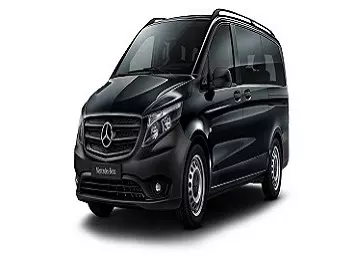 Mercedes-Benz Vito
Capacity: 7/8 Seater;
Fuel type: Diesel fuel;
Air-conditioned car;
Manual / Automatic.
---
---
Start planning your journey today
WhatsApp
Contact us on WhatsApp +212659731554 with an outline of your travel plans and your contact information.
Email Us
Email us on (contact.daysinmorocco@gmail.com) with an outline of your travel plans, your budget and your contact information.
Complete our simple contact form to receive a no-obligation personalized vacation proposal.