Posted by DAYS IN MOROCCO - March 02, 2022
Updated: March 02, 2022
Top 12 Moroccan Foods You Must Try - Best Dishes In Morocco
Moroccan cuisine (Moroccan Foods) is a blend of Arabic, Mediterranean, Andalusian, and Berber dishes. The influences from other nations they've encountered throughout history are perfectly mirrored in their cuisine. So, expect your Moroccan cooking holidays to have a wonderful fusion of tastes and aromas. What's even more exciting is that you can meet a Berber family and even work with them! After all, there is nothing quite like learning about the roots of the country's cuisine!
The Moroccan table is adorned with distinctive and varied dishes that highlight the wealthy cultural heritage of the country, creating it one of the foremost distinguished international cuisines.
Dishes disagree from one region to a different one in Morocco, as every region is characterized by specific dishes that translate its history and customs. Sure dishes area unit ready per sure special rituals, or on sure occasions.
Moroccan Foods
If you're visiting Morocco and want to learn more about the cuisine, then you may be interested in joining a food tour or taking a cooking class tour with us.
Top 12 popular dishes in Morocco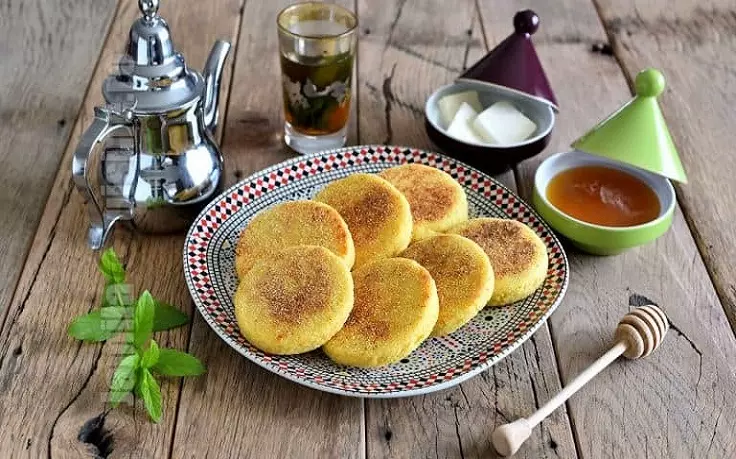 For those who travel for food, few destinations stir the imagination quite like Morocco. It's home to the colorful Tagine and a dizzying number of exotic spices and seasonings. Once you consider Moroccan food, you're thinking of flavor.
Morocco needs a little introduction. Year after year, it's consistently one of the most visited countries in Africa. There are many reasons to visit Morocco but one of the best has to be the food.
Several previous studies have classified Moroccan cuisine among the most famous in the world, as it always occupies advanced positions alongside French and Italian cuisines. If you are the type of traveler who likes to experience a different culture through its food. The following are the top 12 popular dishes in Morocco.
1. Tagine (or Tajine)

Tagine is the most well-known dish in Moroccan cuisine and one that you will find in almost every restaurant in every town. It's typically made with meat, poultry, or fish together with vegetables or fruit. It's also the most striking because it can refer to both the Berber dish and the unique (and often colorful) cooking vessel used to make it. The word Tagine stems from the Berber word tagin, meaning "shallow earthen pot".
When referring to the cookware, a Tagine (or Tajine) is a ceramic or clay pot consisting of two parts - a flat circular base used for cooking and serving and a special shaped conical lid with the purpose of distributing the heat from the top to the whole pot. It comes in different sizes and can be glazed or left as is. Cooks generally preferred unglazed Tagines because of the earthy flavors they impart to cooked dishes.
The Tagine's cone-like shape is designed to trap steam and return the condensed moisture back down to the dish simmering below. This reduces the amount of water needed to slowly cook and tenderize tougher cuts of meat. Not only does it keep the meat as moist and tender as possible, but it's a practical method of cooking in areas where water supplies are limited.
The secret of the tastiness of Tagine lies in the spices used when cooking, which are: cornflowers, ginger, turmeric, saffron, paprika, cumin, cinnamon, ghee, onions, and garlic. Fresh herbs are often incorporated into recipes along with other ingredients like olives, preserved lemon, nuts, and dried fruit. These are the basic ingredients that give the tagine its taste. The Tagine is served with bread that is considered necessary. Tagine is not eaten without bread. Cooking food in the Tagine is very healthy because it is cooked with steam and steamed food is the best healthy food ever.

2. Couscous

Couscous is originally from Morocco and is typically served with meat or vegetable stew. Traditionally, it is prepared on the Muslim holy day (Friday) and for special occasions (marriages, funerals, or sacred feasts), but you can find it at most restaurants and cafes on any day of the week.
There are many types of couscous according to the ingredients and the ceremony celebrated, but the most popular one is the one made with "the seven vegetables" (pumpkin, carrots, potatoes, tomatoes, white and yellow turnips, cabbage, onions...etc! Some regions utilize lentils or white beans).

3. Tanjia (or Tangia)

Tanjia, like Tagine, is a clay pot. These dishes are named after the cooking vessels they use. It's traditionally filled with chunks of beef or lamb and a bunch of spices, Tanjia is made in a sort of urn-shaped pot that's lifted down into an underground oven and slow-cooked.
Hear the name of Tanjia is always associated with the red city of Marrakech. It is the most famous dish that the citizens of the city of Marrakech serve their guests as a distinctive dish with its meat and spices. Tanjia has a unique taste and a wonderful flavor.

4. Pastela

If you like the mix of sweet and salty flavors then you've got to try Pastilla. This flaky pie is traditionally made with pigeon but is more commonly served with chicken now. You can get a vegetarian Pastilla or some sort of meat. It's often served as a dessert at most formal meetings or traditional celebrations.
Pastilla is one of the most luxurious Moroccan dishes. As soon as you mention it, the Moroccan Kingdom is the first thing to strike your mind, and specifically the city of Fez. It is highly demanding in preparation, which made it a strong competitor to some other well-known Moroccan dishes, such as Couscous and Tagine; in terms of taste as well as the ingredients used in it.
In the city of Fez, it is prepared with chicken or pigeons, while in the north of Morocco, it is prepared with fish and seafood, while in the southeast, such as Rissani (Errachidia), for example, it has another form that looks like bread, called "El Medfouna".

5. Harira

YUM! Harira is one of the best Moroccan dishes. Recipes for Harira vary from cook to cook but it's typically made with tomatoes, lentils, chickpeas, and other dishes, and it's a classic dish for Ramadan. However, It can be consumed at any time of the year, you can find Harira in most restaurants and it's one of the most frequently ordered starters in Morocco.
Harira is among the most complete dishes in the Moroccan diet. It consists of many ingredients such as pastries, herbs...etc! All these ingredients contain great nutritional value, such as proteins and starches that are abundant in pulses, like lentils and chickpeas, which provide the body with energy.
Harira is also rich in mineral salts and vitamins, especially vitamin "D", which is found in coriander, parsley, and celery, not to mention the vitamins in tomatoes that prevent cancer.

6. Moroccan Salads

The Moroccans serve a variety of cold and hot salads as an appetizer before a meal. Here are the most common Moroccan salads.
Tomato Jam This dip is the consistency of jam but made with roasted tomatoes and then sweetened with honey, cinnamon, and orange flower water. It might sound like an odd appetizer but its sweet flavor can do miracles when it comes to opening up an appetite.
Moroccan Mixed Salad Traditional mixed salads include cucumbers, onions, tomatoes, and lettuce or mint. Some varieties may include rice, eggs, beets, or even potatoes. This salad is usually served as an appetizer but sometimes it also comes alongside a Couscous or a Tagine.
Taktouka Taktouka is a cold salad that consists of green roasted peppers and tomatoes topped with coriander, lemon, cumin, garlic, and olive oil. The vegetables are chopped rather than pureed like many of the other salads.
Matbukha Matbucha is similar to Taktouka. It also consists of roasted bell peppers (without tomatoes) but it's topped with chili pepper and garlic that gives the salad a hot spicy flavor.
Zaalouk Zaalouk is one of the most popular Moroccan salads. It's made of cooked eggplant, tomatoes, and local spices, it can be eaten alone or scooped with bread.

7. Bisara

The Bisara is a rich and hearty soup made from dried fava beans. It is peeled and cooked in water with some vegetables, spices, and olive oil. It is served hot with barley or wheat bread, at lunch, dinner, and for breakfast, in some regions. Typically it will be topped with fresh olive oil and a sprinkle of cumin.

8. Chebakia

Chebakia is one of the oldest known desserts in Moroccan cuisine. It's known for its floral shape and crunchy texture and is traditionally prepared during the month of Ramadan.
You can find them all over the street food markets in Morocco. If you struggle to find them, just keep your eye open for a group of bees; they always roam around the Chebakia street food stalls. Chebakia sounds simple to make but folding the dough into the right shape can be time-consuming.
To make Chebakia, strips of spiced sesame dough are rolled to resemble roses before being deep-fried till golden brown and crunchy. The cookies are then coated with a syrup made from honey and orange blossom water and sprinkled with sesame seeds.
Chebakia is traditionally a dish served to break the fast but it's often prepared to celebrate other occasions as well.

9. Moroccan Khobz (Bread)

Moroccan Khobz (bread) is also generally doled out prior to every meal. This crusty bread is typically baked in communal wood-fired ovens. The bread is the main food on the Moroccan table. Also, in Morocco, there are other types of bread, like the Harcha (a buttery bread), Msemen (flaky, layered flatbread), or Baghrir (a spongy pancake).

10. Olives

Morocco is the 5th largest producer and exporter of olive oil in the world, it's only natural that olives are an important part of Moroccan cuisine. You will probably get a little bowl of spiced olives before every meal. You can get the spiced olives at most street food markets and it's also a very common appetizer.

11. Fried Sardines

Did you know that Morocco is one of the largest exporters of sardines? Hence, it's no surprise that sardines are one of the popular local snacks and you can get sardines at all street food markets in the coastal regions of Morocco.
Moroccans have a special and distinctive way when it comes to preparing sardines. After purifying the fish, washing it with vinegar, and distilling it from the water, coriander, finely chopped, minced garlic, cumin, salt, seed, ginger, sweet red pepper are mixed with lemon juice and a spoonful of oil. The fish are then arranged, and a certain amount of the mixture is added. The fish slices are put one on the other, and then sprinkled with flour well so that it does not stick, then it is put in boiling oil.
This dish is usually accompanied by French fries or Zaalouk.

12. Moroccan Whiskey (Mint Tea)

Mint tea or Moroccan whiskey, is made with a green tea base, spearmint leaves, and sugar. It's an emblematic drink and a central component of social life in Morocco. Expert tea pourers can hit a small glass from a foot or more above. The resulting bubbles are meant to make it more appealing and to show that the tea is ready to drink.
The preparation and serving of Moroccan mint tea are steeped in ritual. It's traditionally made by the head male of the family and offered to guests as a sign of hospitality. The tea is poured into glasses from a height to gently aerate the tea and improve its flavor.
It is generally consumed before meals, after meals, with every meal, and anytime throughout the day (and night).
---
FINAL THOUGHTS ON MOROCCAN CUISINE
With its many souks, spices, and medinas, Morocco is a great destination, especially for those who travel for food.
This Moroccan food list is by no means a definitive guide but we hope it whets your appetite and gets you even more excited to experience the unique flavors of Morocco.
MOROCCAN FOOD TOURS
Head on over to beautiful Morocco on your next cooking vacation! You'll get to learn how to cook staple Moroccan dishes such as Harira, Tagine, and Couscous. Not only that, but you also get to explore a world of delicious and exotic spices. Visit local souks and have a better understanding of the traditional and fresh ingredients used in Moroccan cuisine. Visit riads and we know you'll feel right at home. Try Marrakech, Tangier, Fes, Rabat, Casablanca, Agadir, and so many more wonderful cities. All you have to do is pick your destination and book your trip today!
MOROCCAN COOKING CLASSES
Eating Moroccan food is one thing, but learning how to actually make it yourself is another. Taking a cooking class is one of the best ways to learn about the local cuisine. It's like looking under the cuisine's hood.
If you want a more hands-on experience with Moroccan food, then join our Morocco food tours for a list of cooking classes in different cities throughout Morocco.